The ruins of Castle Frankenstein lie a few kilometers south of Darmstadt. This castle was placed on a high hill, rising a fair height above the neighboring hills, and thus offering excellent sight on clear days. Despite frequent speculations, the name is most likely not linked to Mary Shelley's classic novel, although the local history show that a famous local alchemist lived in the castle, giving the rumors some credence.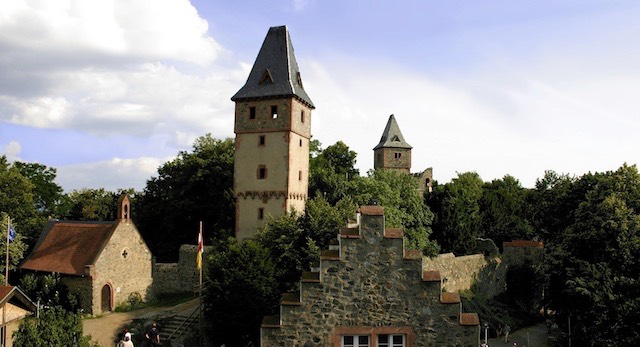 Picture © Alex Deppert (details in the imprint)
The castle was erected some time before 1250, since the first document referring to the castle dates back 1252. It changed ownership several times and fell into disrepair in the 18th century (castles are notoriously expensive to maintain and especially heat!). The two distinctive towers visible on the image are actually historically incorrect reconstructions of the mid-19th century.
In 1970, a restaurant was established in a side tract and still exists today. In 1976, American soldiers stationed in Darmstadt - and finding the combination of the nearby location, the state of the castle ruins, and its "chilly" name too hard to resist - founded an annual Halloween festival at the castle, which is still active today and immensely popular with the locals and guests from abroad. Today, this is said to be one of the largest Halloween festivals in Europe - although Halloween never had a tradition in Germany.
If you have a car or want to hire a cab (say, on Tuesday afternoon), the castle ruins are well worth a visit!