The city castle has been erected, modified, and extended over a period of roughly six centuries, leading to an interesting walk through the history of different architectural styles: from elements inspired by the Renaissance to baroque elements. The original foundation was a moated castle that was erected before 1330, sine it was first mentioned in a document dated 1331. After the castle was burned down in a war in 1546, it was built in the then current fashion. Starting in 1714, Louis Remy de la Fosse started rebuilding parts of the castle for the Landgrave Ernst Ludwig (aka Ernest Louis).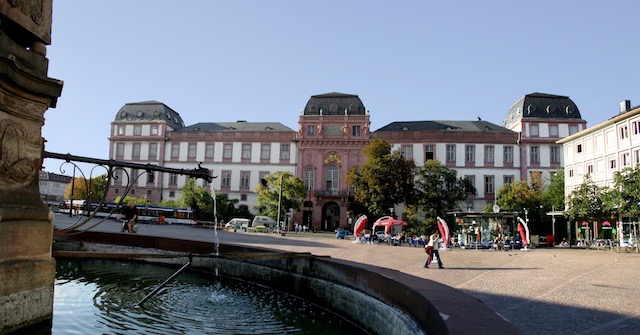 Picture © Alex Deppert (details in the imprint)
When you enter the castle from the South by crossing the market place (as shown in image), the coat of arms of the landgraves is surrounded by two reliefs symbolizing war and peace. Above that, you can see four female statues, representing faithfulness, love, justice and affluence. Inside the entrance, you can see two statues of landgrave Philip I the Magnanimous (Philipp der Großmütige) (1504-1567, ruled from 1518-1567), one of the most important German rulers at the time of reformation, and his son George I, Landgrave of Hesse-Darmstadt (Georg I) (1547-1596, ruler of the new Landgraviate from 1567-1596).
The bell tower inside the castle used to house a "glockenspiel" (chimes) dating back to 1671 with 28 bells from Amsterdam; this was destroyed in the bombing of Darmstadt on September 11, 1944. Since 1951, the bells are again ringing every 30 minutes, playing a folk song on the half hour and a choral on the full hour. The castle also hosts a small museum showing rooms, carriages and other aspects of the live of the rulers. Currently, the museum is only open on Friday to Sunday.