The Russian Chapel St. Maria Magdalena was built between 1897 and 1999. The reason was that the last Russian Czar (or Emperor), Nicholas II (1868-1918), who was married to Alix of Hesse and by Rhine (1872-1918), a sister of Grand Duke Ernest Louis (Ernst Ludwig), the founder of Mathilda Heights. During their many visits to his wife's home town, the Russian Emperor did not want to miss his Russian Orthodox services and received a grant by Grand Duke Ernst Ludwig to build the russian chapel. The chapel was designed by the architect Leontij Nicolajewitsch Benois (1856-1928), the grandfather of the actor Sir Peter Ustinov.
The chapel was built on Russian soil gathered from all (at that time) provinces of Russia. In this verbatim sense, one is "on Russian soil" when entering the Russian Chapel. The church still offers biweekly russian orthodox services and is often open for visitors. Of course, visitors are expected to be silent and not touch anything in this chapel.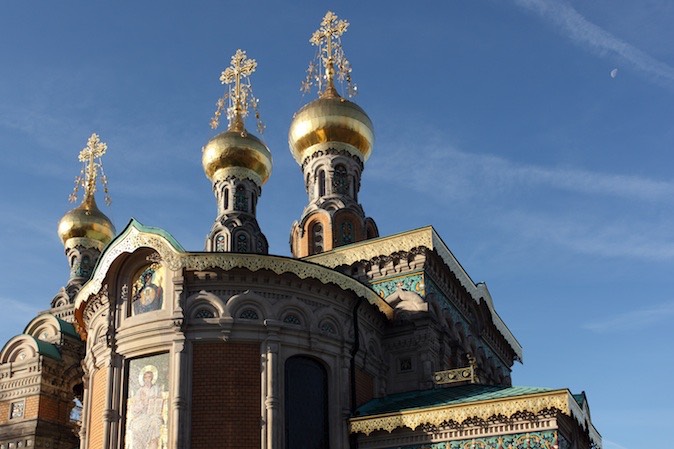 Russian Chapel (click to see large version at 5616 × 3744 pixels). Picture © Ulrich Mathias (details see imprint)
In front of the Russian Chapel is a water basin built in 1914 by Albin Müller, one of the leading artisans in the Mathilda Heights artisans colony. The floor of this basin is covered with ornamental tiles, and the basis is bordered with sculptures from a special type of limestone representing Maria and Joseph, sculpted by Bernhard Hoetger.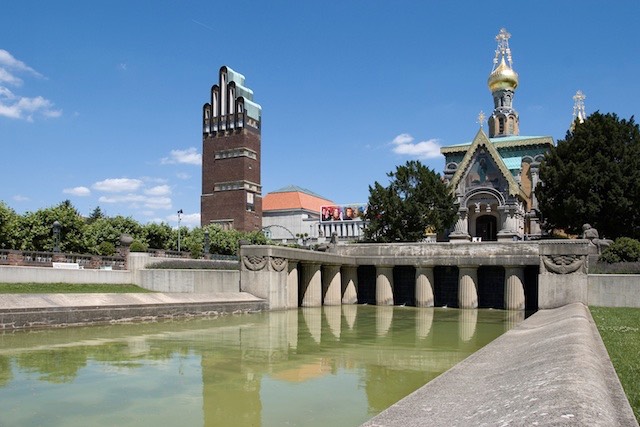 Water basin in front of Russian Chapel (with Wedding tower at the center). Picture © Ulrich Mathias (details see imprint)
Click to see the 3200x2133 version.