The Karolinenplatz (abbreviated to Karo by the locals) is named after the Countess Palatine Caroline, Landgravine of Hesse-Darmstadt (Karoline) (1721-1774, wife of Louis IX, Landgrave of Hesse-Darmstadt (1719-1790, reigned 1768-1790). She was also called the "Great Landgravine" by Johann Wolfgang von Goethe, and was a friend to several of the writers and philosophers of her time: to the extent that some sources claim she was one of the most learned women of her time. The legendary king Frederick II of Prussia, called "Alter Fritz" (old Frederic) called her the Glory and Wonder of our century. Through her daughter, she is an ancestor to the royal house of Prussia, Germany and the Netherlands.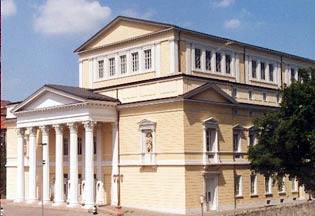 Picture © Alex Deppert (details in the imprint)
The Karo houses the Haus der Geschichte (House of History), which hosts several archives and historical institutions. The original building burned down in 1871, and was reopened in 1879, but again burned down during the bombing of Darmstadt. The Karo also hosts the state museum, which hosts many interesting exhibits of art, history or science. Alas, this is currently being renovated and expected to open to open in 2012.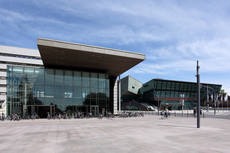 Picture © XX (details in the imprint)
Finally, the Karo also provides access to the Welcome Hotel Darmstadt, the Karo 5 entrance to the TU Darmstadt (which locals nicknamed "super gas station").