The Wedding tower, at the top of the hill and with a height of 48.5 meters (roughly 160 feet), is probably - apart from the Russian Chapel - the most distinctive features of the Mathilda Heights. The tower can be climbed (there is also an elevator) at a modest fee of €1.50 (about $2). It was planned by Joseph Maria Olbrich and finished in time for the third exhibition in 1908. The tower was named for the wedding of Grand Duke Ernest Louis (Ernst Ludwig) with Eleonore of Solms-Hohensolms-Lich in 1905. The city of Darmstadt decided to celebrate this event by funding the building.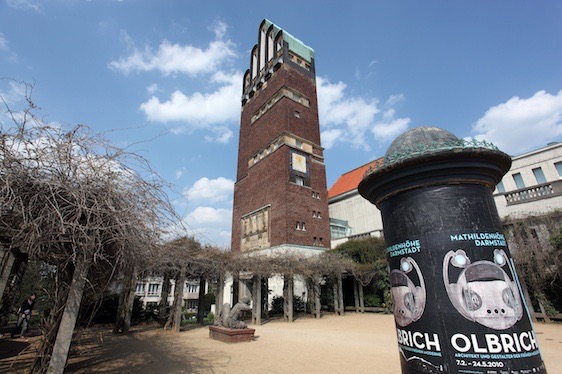 Wedding Tower. Please click on the image for the full 5616x3744 image.

Picture © Ulrich Mathias (details see imprint)
The entrance of the tower shows a relief by Heinrich Jobst (1874-1943) showing the virtues strength, wisdom, justness, and gentleness. The top of the tower shows the "five fingers" of the arm raised in the marriage vow. The tower itself contains two great mosaics "the kiss" and the "goddess of luck with cornucopias of roses", arguably among the best mosaics in the whole Art Nouveau movement, created between 1908 and 1910 by Friedrich Wilhelm Kleukens. The tower has seven levels, two of which are still used during weddings (level 4 and 5). At the top is a platform which offers a great view over the city in all directions, and outlines the main sights on the window sills.